EZ Strip® – The safest and most effective paint removal products!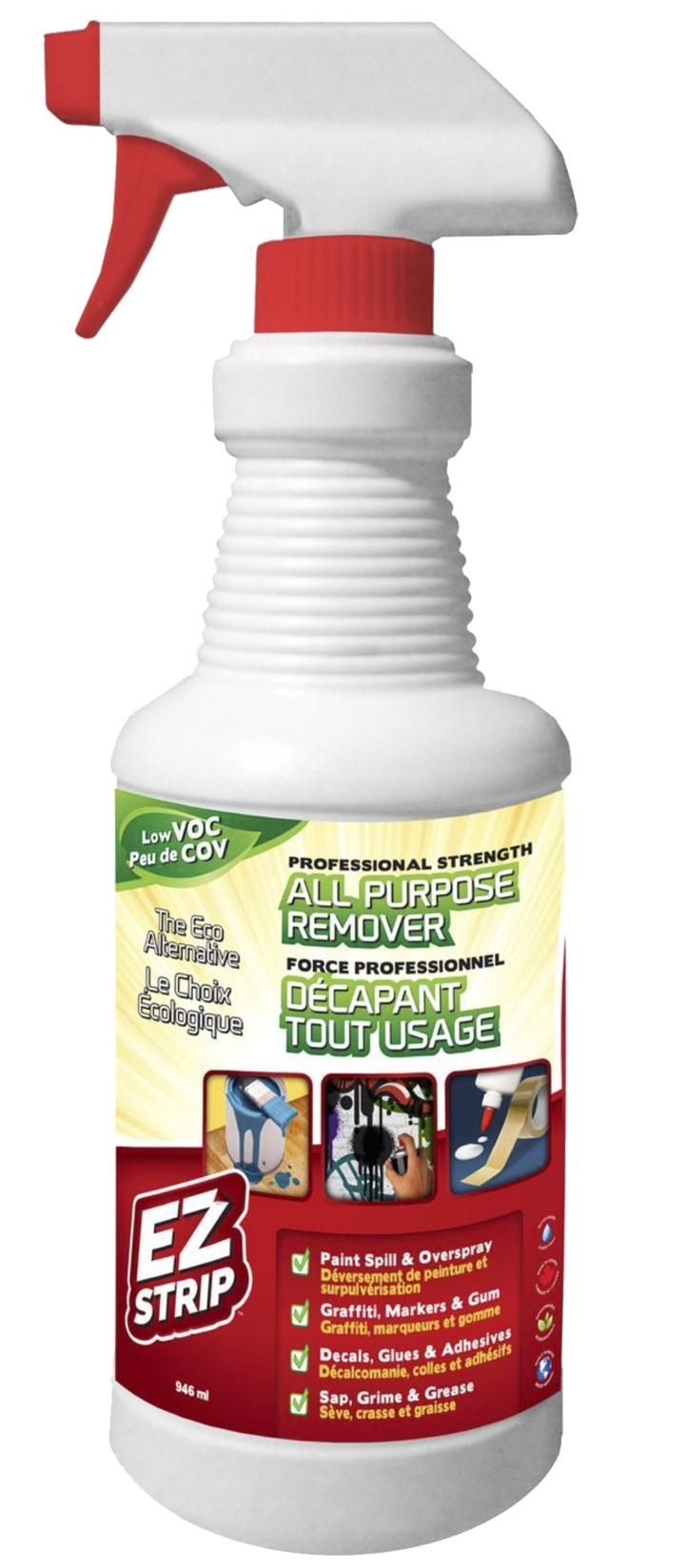 TOUGH REMOVAL SOLUTIONS
Contains NO Methylene Chloride & N Methyl-2-pyrrolidone (NMP)!
From paint, stains, and sticker removal to everything in between, EZ Strip® is the right formula for any removal job. Looking for a product that will answer the tough question of how to remove anything from painted popcorn ceilings, glue, gum or grease? You'll find it here! Our patented, easy to use, no mess products tackle the toughest tasks around the job site, house, garage or yard. EZ Strip® is Tough!
Paint, Lacquers & Varnishes
Graffiti, Markers & Gum
Painted Popcorn Ceiling
Painted Drywall Textures
Decals, Glues & Adhesives
Kitchen & Garage Grease
Road Splatter, Sap, Bugs & Tar


Ashley D.
Best Product ever!
"Holy cow! My kids and I have been using our sunroom as a craft room for the last year and there was so much paint all over the tile floor. I've scrubbed and scrubbed before with different cleaning products and had no luck. I sprayed on some EZ Strip, scrubbed, and mopped it up. The paint is gone! The simplicity of this product makes me so mad at myself for living with paint covered floors for a year!"


Anthony H.
Easy to use
"I'm remodeling my bathroom but the walls had a textured design that was not attractive and hard to remove. I applied EZ Strip and allowed it to sit for 4 hours (cover it with plastic) and scraped it off with ease. This stuff is like magic and easy to clean up AWESOME!!!"


Chris Kitchen
I use this daily – furniture refinisher
"(In my professional opinion) – I am always getting pieces in that clients want redone. I love that this has a low odor and I can use this right in front of my clients. It does take multiple applications but most items being refinished do. I like that it gets into all of the nooks and can be easily scrubbed off with a scrubber, soap, and water. You need patience when properly refinishing furniture. I love that I can put this on and walk away, it allows me to multitask. I have had an entire dresser stripped in an hour when used properly. This is my go-to."


K. Williamson
WOW!
"I was really impressed by this product! My daughter decided to stick stickers on her sippy cup that is personalized and it had the worst glue stuck to it. I tried everything. This product got it off no problem. I did do the steps twice but it was removed without much effort. I would totally recommend."


Roger
Works Miracles
"We used EZ Strip on spray paint over spray and it worked. So then we used it on some duct tape residue and it also worked wonders. So then we tried it on the stove vent and this is where the product shines. It cleaned it up and removed hidden grease that we couldn't see."